Why Tpage.com?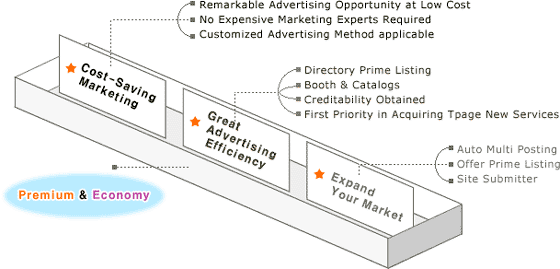 Tpage.com now begins level-up enhanced services in real traders network
by verification of all the membership and services.
[ Real Traders Network Survey regarding "Why Tpage.com?" ]
Members in Tpage.com use offers and inquiries constantly and cost-saving marketing & research tool at Tpage.com.
40 percent of Tpage members think that it's very useful to se business opportunities by offers, advanced search engine, and contacting buyers by sending inquiries. 24 percent of members use for efficient and cost-saving international trade through Tpage.com, and 20 percent for its uppermost advertising tool such as Prime listing at Company Directory, Offerboard, Showroom, Capital Companion advertising, Auto Multi Posting, and Site Submitter.


88 percent of the membership visit Tpage.com more than once a week and 60 percent of the membership who have visited more than 5 times a week. Therefore, the number of members is incredibly increasing.


42 percent of participants currently use the paid service at online trading sites and the numbers of the members, using the paid service, are increasing since last July when Tpage.com started its fee-based service, Tpage Premium Membership.


Since 73 percent of the members would like to use for marketing and market research through Tpage.com, there is very reliable and tremendous information from offers to trade leads. Furthermore, 27 percent of the members want to extend the Membership usages to payments, certificate of payment on imports and exports through Tpage.com. We determine that Tpage.com is useful for not only finding trade offers but also services even after contracts are made.


39 percent of the members have succeeded more than 50 percent of the attempts to contact interesting companies through Tpage.com Send Inquiry services. This represents the accuracy of the company information and Tpage.com contains 100,000 companies information, which is valid and proven by the members.


70 percent of the members responded that they have received more than 1 incoming inquiry from other members (excluding scams and frauds). Also, for the response of the inquiry, 72 percent has experienced the convenience in contacting the company through Tpage.com. The interesting fact is 66 percent of the members still correspond with the members for the business trade through Tpage.com.


47 percent of the members use My Tpage every time they visit Tpage.com. Other 45 percent go to My Tpage when they edit and update their Booth (homepage) and Catalogs or when they receive the new inquiries.


43 percent of the members are willing to pay for Premium Membership in demand of the efficiency and certainty on advertising their company and products to all the global companies at Tpage.com. Tpage.com counted the offline trade costs and expenses to have network and exchange trade leads and offers through counterparts at globe is too expensive to compare with Online trade. Therefore, Tpage Premium Membership is not only useful but also reasonable as a fee-based Membership.


In use of Tpage Premium Membership (fee-based), 49 percent of the members registered for the Membership because of managing ease on the offers and inquiries. This result once again proves the necessity of the Premium for all the members.


71 percent of the members satisfy with the customer service they have had in past. We certainly guarantees the successes on the members trade business through Tpage.com and always prefer to provide best-service until the members satisfy with it.

93% of the members who participated in the survey are currently running their companies in business trade. Therefore, Tpage.com states that this survey result is very accurate in terms of Tpage membership...

According to the result, there are more buyers and sellers than we have expected, have successful trades, moreover; they have certain know-how not only on finding trade leads but also on saving cost and time of trade process through Tpage.com.